Chromatogram generator
Abstract
Is investing many thousands of euro's or dollars in instrument upgrade worth the gain in time? The chromatogram generator can help you with this and many other optimization questions. Try this tool, an Excel file that has been created by Jeroen Billen with support from Gert Desmet and Peter Schoenmakers to help beginning and advanced chromatographers to 'get a feeling' of the impact of the various separation parameters.
The file has been tested in practice and in teaching environment and has been proven to be extremely useful to make a time-saving (and most likely cost-saving!) educated guess of separation behaviour.
You can download for free the Version 1.2 by clicking on the illustration.
Level
Basic
This 'hands-on' tool shows the effect of five essential separation parameters:
Type of chromatographic system
Column length
Column diameter
Total pressure drop
Temperature.
You can change the various parameters in the red boxes (the cells B8; B9; B10; B13 and A2 of the sheet "improved system") and the generator calculates and shows the new chromatogram. The generator has been prepared by combining real experiments in packed bed, monolith and halo systems with the well known separation formulas. Calculations therefore appear quite useful for a first use in optimisation.
For more detail on the chromatogram generator and how to use it, click this link to an interview with Jeroen Billen and Gert Desmet.
Click this illustration to download the V1.2 file.
This is an Excel file, downloading may take a few seconds.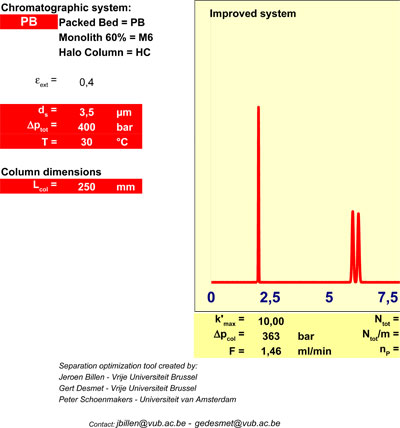 Jeroen Billen, Gert Desmet. 2008

We appreciate your comments and suggestions for improvement. Please send these to jeroenbillen@chromedia.org